Behind the Climb
Discovering Ubuntu
in South Africa
A peak inside an Ascend Fellows Forum
The Ascend Fellowship brings leaders together from throughout the United States and across sectors who are advancing intergenerational prosperity. From reinventing systems of care and learning and unlocking capital that opens doors for economic inclusion and justice, to breaking ground with research that changes the course for policies and practices directly affecting communities, Ascend Fellows are leaders advancing real change.
Fellows Forums are a key component of the Ascend Fellowship. Each cohort of Fellows participates in four carefully curated forums. Three of the four forums take place in Aspen, Colorado on the Aspen Institute's campus. One forum, however, is at a location determined in partnership with the cohort.
The 2021 Cohort of Ascend Fellows chose South Africa. Ascend Fellow Joe Waters is the co-founder and CEO of an independent, nonpartisan think tank called Capita, which has a footprint across sub-Saharan Africa. The cohort proposed convening in South Africa as an especially timely opportunity to learn from South Africa's work around racial reckoning and reconciliation post Apartheid given our own recent and continued racial reckoning in the United States.
Tiana C. McCoy – Senior Associate, Operations and Convenings at Ascend – provides an inside look at the experience of a Fellows Forum.
Friday, March 10 – 3:54 am
Middle of the Atlantic Ocean
It's 3:54 am ET and I'm awakened by a beverage cart being pushed down the aisle of my 15 hour flight. I'm heading almost 8,000 miles away from home, and I'm halfway there. I've never been to Africa, despite my African-American heritage, and I'm not sure what to expect upon arrival. What I do know: I've dreamed of this pilgrimage for a long time.
As an undergraduate at James Madison University, I enrolled in a class titled, "Special Topics in Justice Studies: Truth and Reconciliation Commissions." On the flight, as I review readings for the final forum of Ascend's 2021 Fellowship Cohort, I'm struck by memories of past class discussions and papers on South Africa's complicated handling of Apartheid. Reading and recalling works from Desmond Tutu and Nelson Mandela and their journeys reconciling with the country's painful history. But at the forefront of my mind is my own journey.
Ten years ago, I was sitting in a classroom contemplating immersion in South Africa's rich and complex culture. Now, I'm embarking on an experience with 23 Fellows and colleagues to explore the country and engage in place-based learning from some of South Africa's most innovative leaders. My role is to curate the convening experience for the Ascend Fellowship, providing Fellows with the space and inspiration to reimagine their leadership. Tiana, the college sophomore, could never have imagined this opportunity to curate such an impactful experience for herself and others.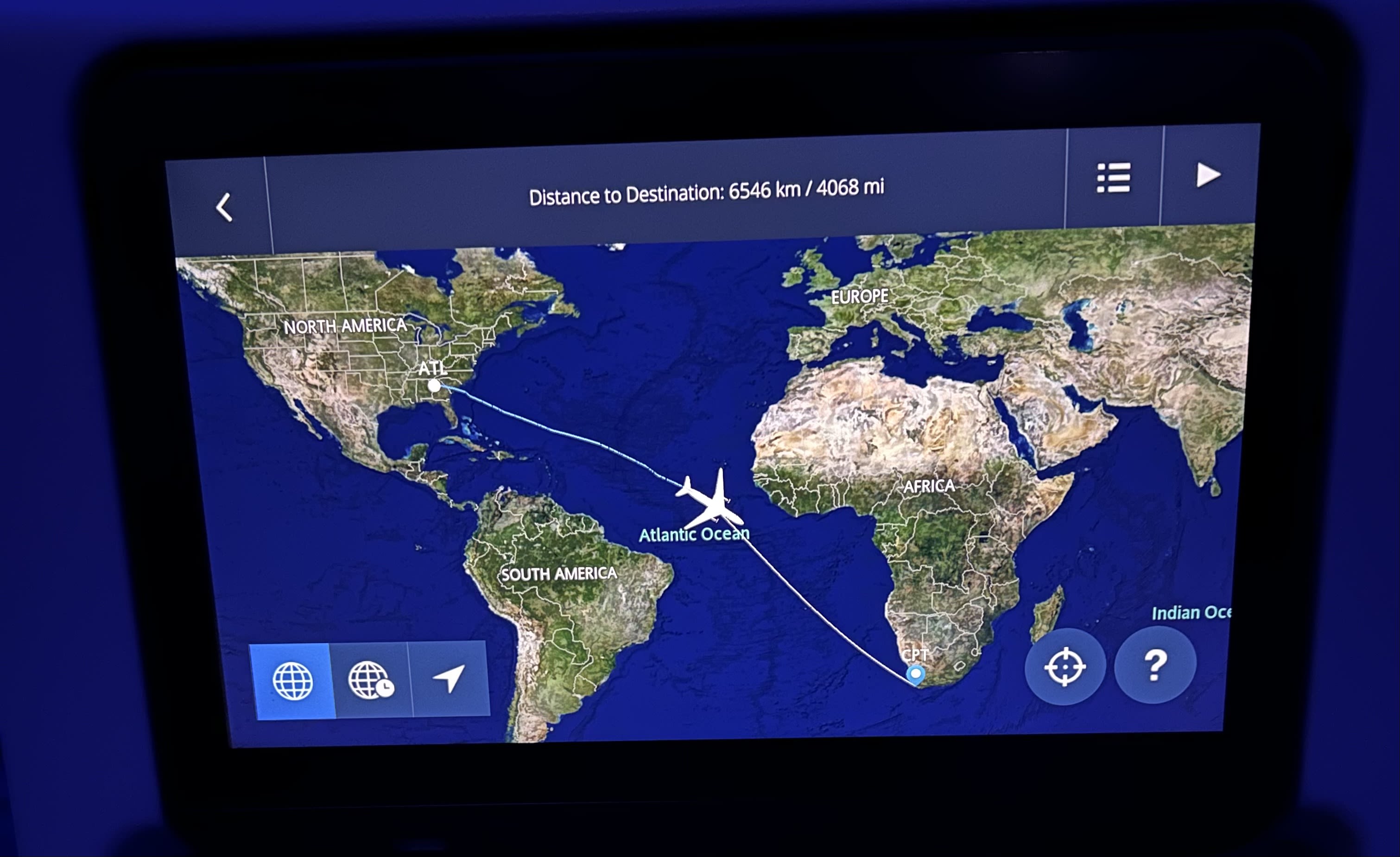 Friday, March 10 – 8:42 pm
Spier Wine Farm
Stellenbosch, South Africa
Driving from the airport past Helderberg Mountain, vineyards, and townships, our transportation specialist and I talk about the persisting effects of Apartheid. He recalls growing up in South Africa, labeled "colored" at birth, and he preemptively apologizes for the language, acknowledging that in the U.S. "colored" is a painful descriptor. He shares how his family was forced to leave the home his father had built with his bare hands, each word filled with pain.
The conversation provided what my education couldn't — first hand accounts of the devastation of Apartheid by the people closest to that pain. But perhaps most striking to me was how much the oppression faced by non-whites in South Africa mirrored what African–Americans face in the U.S. How the targeting of community unity, lack of generational wealth, and denial of land ownership sustain those in power. He was similarly awestruck by the commonalities, but the effects of white supremacy are not bound by time or geography.
During dinner I take in my surroundings and ground myself in the present. I note the contemporary South African art on the walls, highlighting the country's talent. The majority of the restaurant staff is Black — though not necessarily South African. The guests do not seem to be African at all.
As I finish dinner, I recall one of our seminar session texts for the week. In it, Nelson Mandela writes: "Perhaps it requires such depths of oppression to create such heights of character…"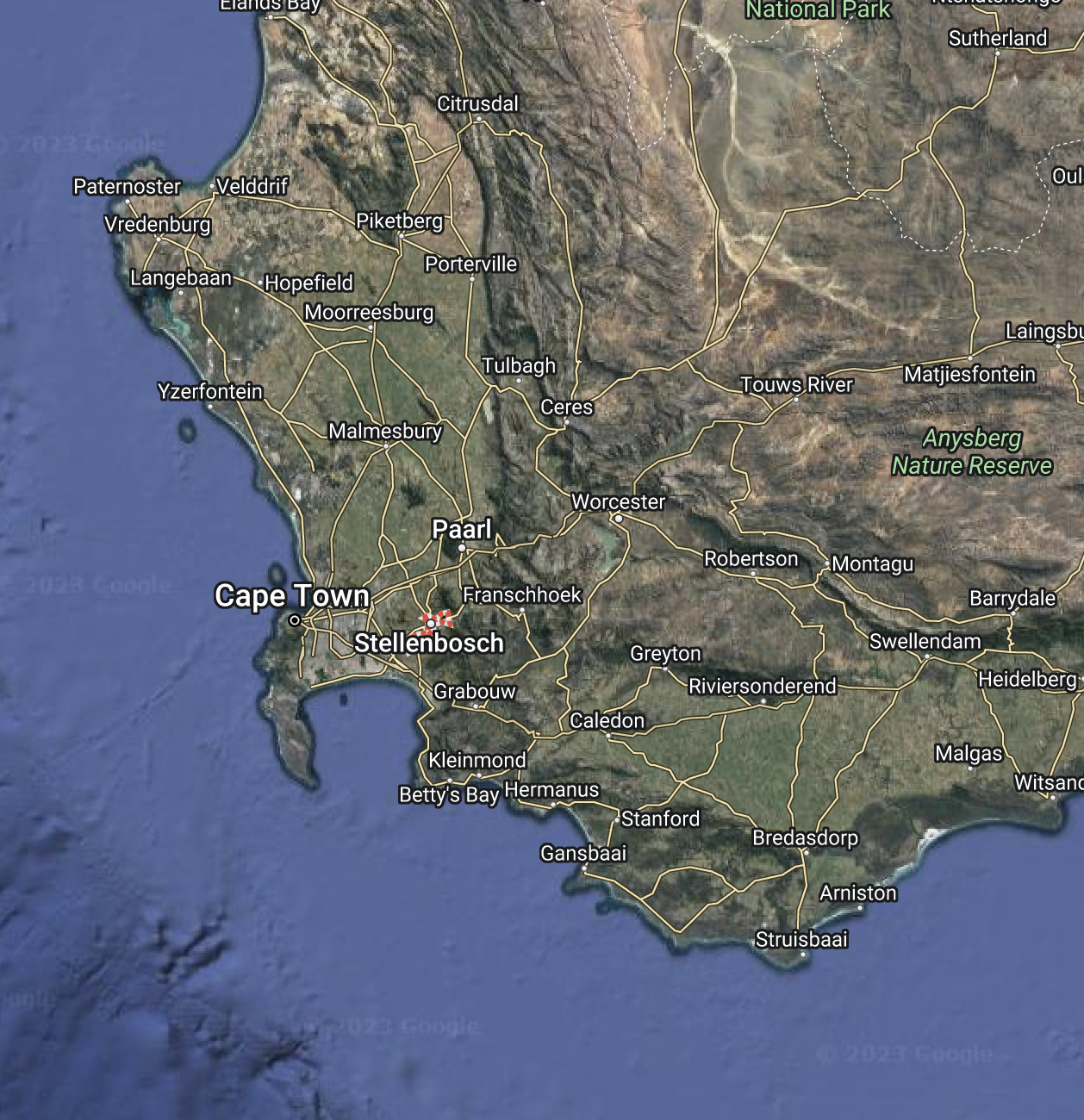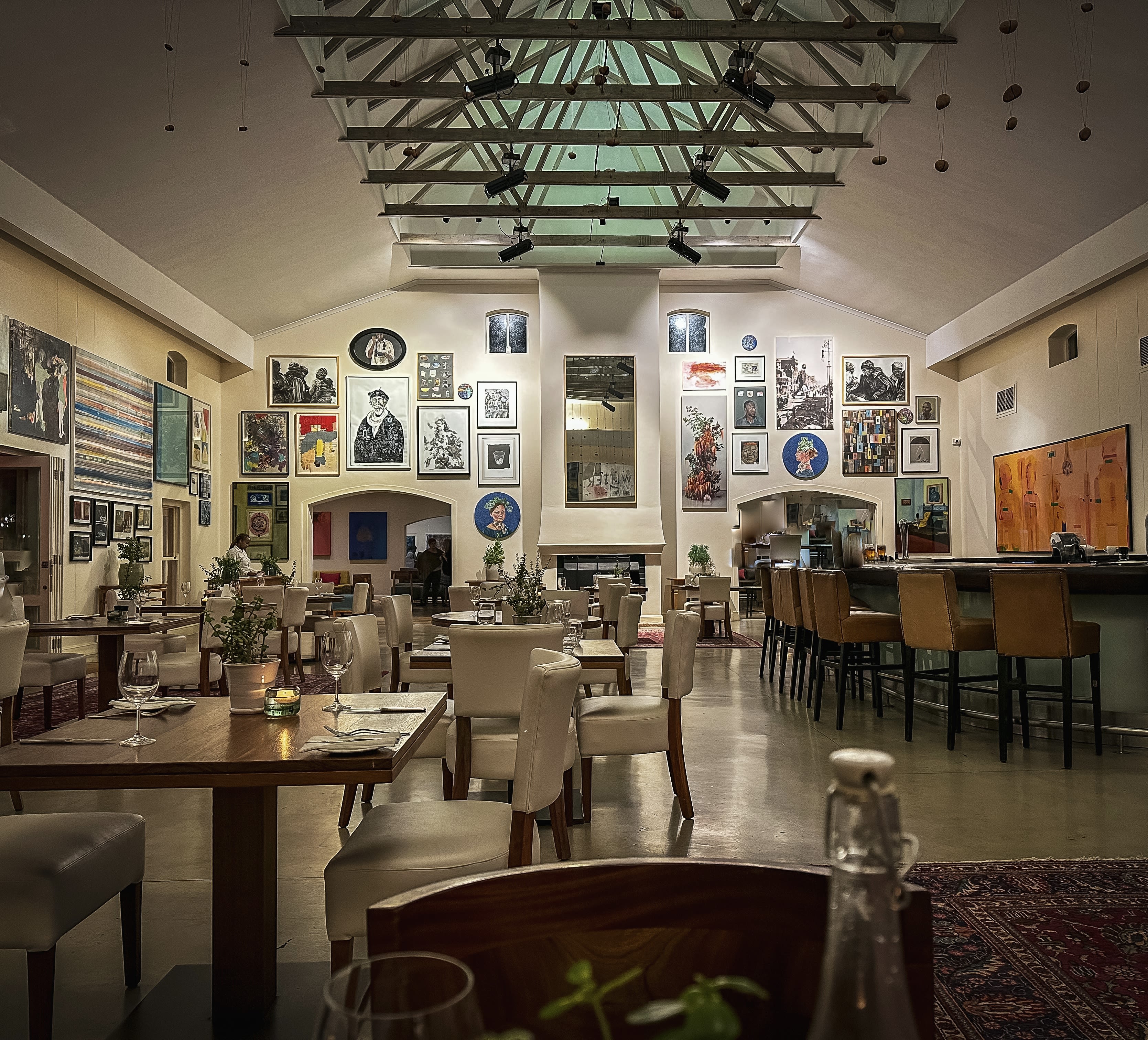 Saturday, March 11 – 12:50 pm
Spier Wine Farm
When I arrived yesterday, the sky was hazy as the sun set over Stellenbosch. Today, the sun is shining, the sky is clear, and I'm ready to explore the grounds in preparation for the arrival of our Fellows.
Saturday, March, 11 – 2:24 pm
Spier Wine Farm
Before I'm able to make my way through campus, I encounter a stunning piece of art, erected in the middle of the walkway nestled between the hotel and the conference center. The "Dying Slave" is a mosaic piece based on Michaelangelo's image of a dying slave, created by Marco Cianfanelli, a Johannesburg-born artist. While you can immerse yourself in the installation, the image can only be seen from a distance, bringing the piece into focus. This piece reminds me of the purpose of the forum, a time for Fellows to step back from their day to day and observe the challenges that lie ahead and envision clear solutions for a brighter future.
Saturday, March 11 – 4:38 pm
Craft Market at Spier Wine Farm
After traveling into the town of Stellenbosh to pick up some supplies before the week begins, I head to the craft market at Spier. The market is a social enterprise that utilizes fair trade principles and sound commercial practices to achieve both positive social and environmental benefits — a model that allows the artist to retain the majority of the funds from each sale. Here, I find the final piece to our forum gift: handmade cards to give to the Fellows in addition to a few other locally purchased items.
Saturday, March 11 – 6:13 pm
Spier Wine Farm
On a mission to locate our meeting space, Riverhouse, I continue my exploration through the grounds. Outside of our meeting building is beautiful foliage and directly in the middle of it all is a towering swing, that I naturally must inspect (for the safety of our Fellows, of course). ☺
Saturday, March 11 – 6:55 pm
Outside of Reception
The first group of Ascend Fellows arrive and I'm excited to welcome them. After familiarizing myself with the grounds, the staff, and the offerings of the hotel, I'm confident we're ready for a successful start to the forum. Familiarizing myself with my surroundings ensures that upon arrival, the Fellows are stepping into an experience that has been curated with care and intention. In each place we stay during the forum, my goal is to make it feel like home because safety, comfort, and trust are the foundation for great dialogue.
Sunday, March 12 – 1:00 pm
Spier Wine Farm, Riverhouse
Finally, we are able to see the meeting space. It's different than the open, Bauhaus-inspired meeting spaces on our Aspen Meadows campus, yet I love it. The plants, the South African artwork, the large windows and skylight letting in sunshine from all angles, a warm environment where Fellows can fully engage — a home.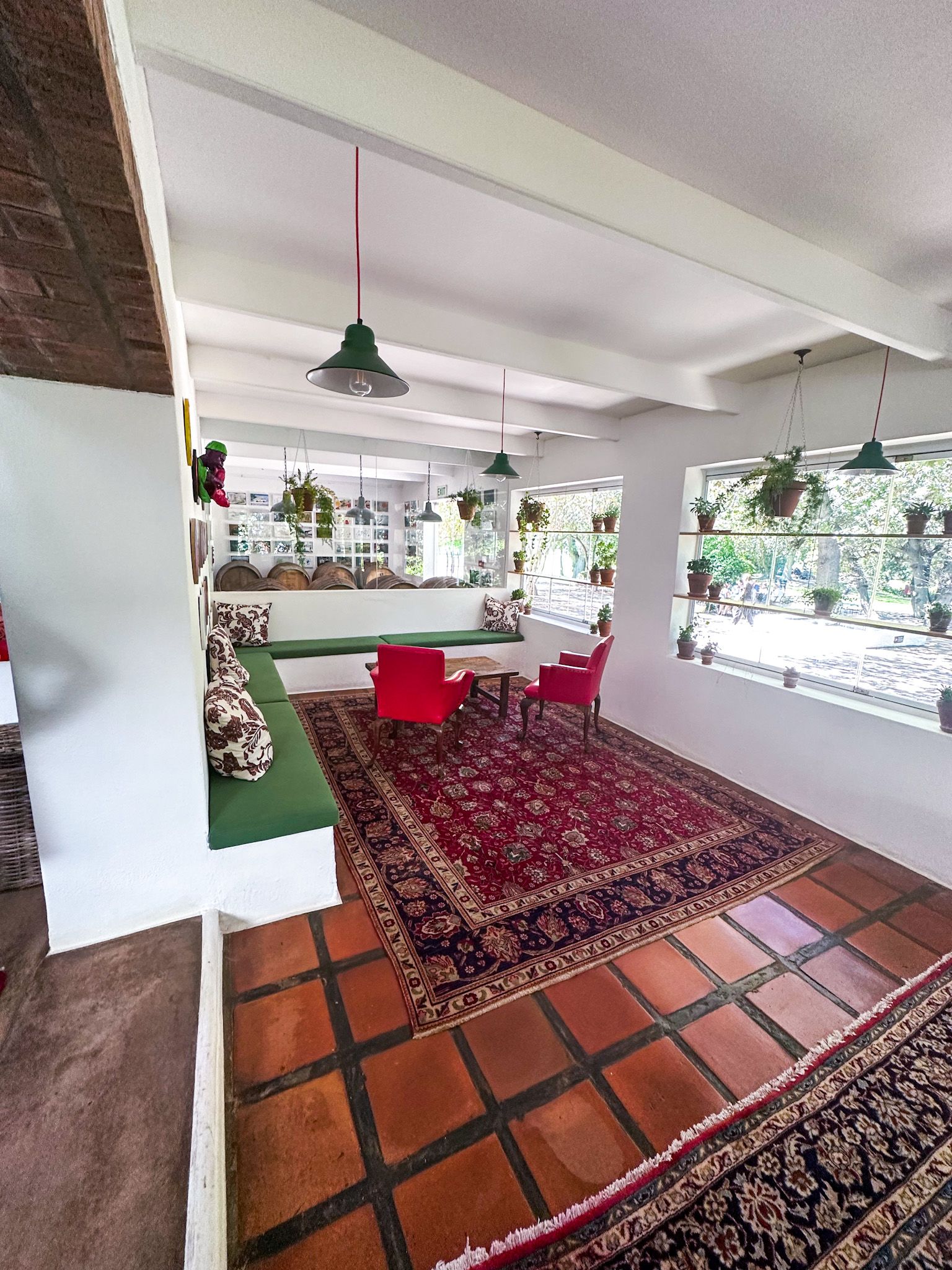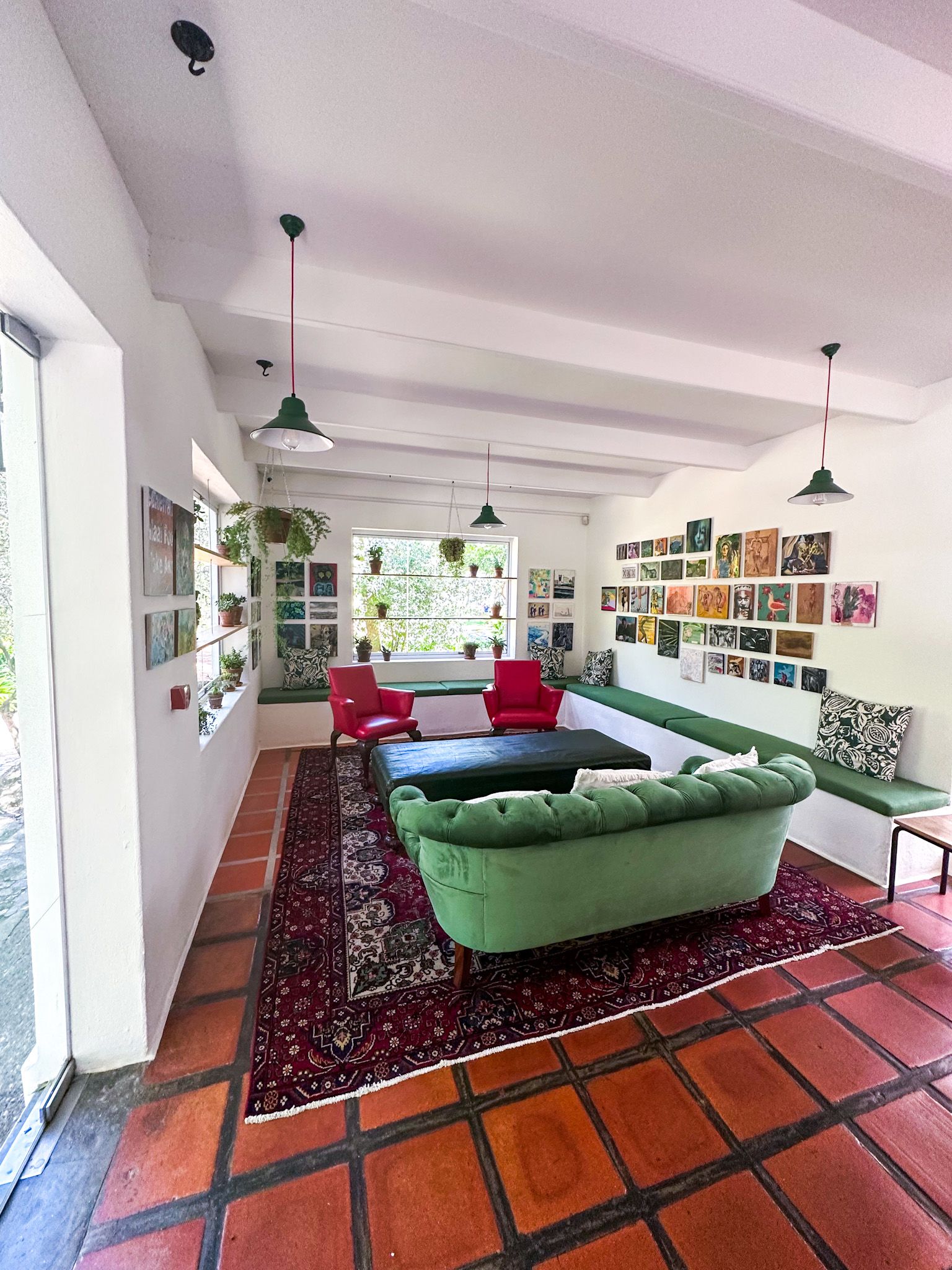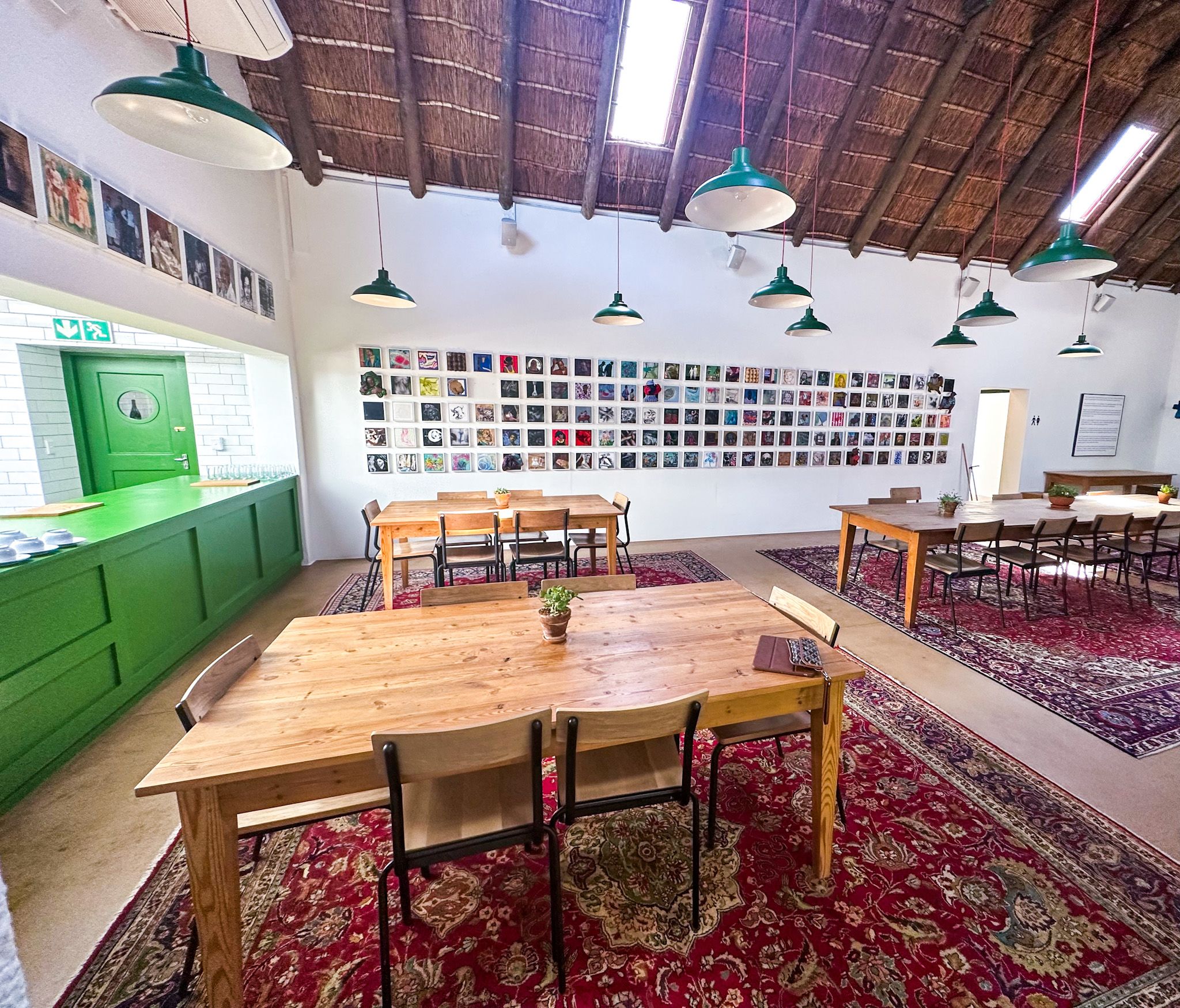 Monday, March 13 – 10:13 am
Riverhouse
I 'm excited to get the Forum officially started with the Fellows. On my walk to the meeting room this morning, I feel weightless, light. The positive energy circulating is unmatched.
The morning begins with remarks from our guest moderator, Dele Olojede, who's an Aspen Global Leadership Network (AGLN) Fellow and lives in South Africa. During his opening remarks, Dele discusses how in many places in the world, inequalities may be hidden, but how in South Africa it is hard to escape, an observation I'd quickly noted myself.
Now, it's time for check-ins. This is an opportunity for Fellows to reflect on how they are entering the forum both mentally and physically. As they do this, I take time myself to reflect. I'm filled with a wealth of emotions, but at the top of the list is gratitude. I feel grateful to be here in South Africa, surrounded by mountains, palm trees, blue skies, and the talented and courageous group of Ascend Fellows who I've been with since they embarked on their Fellows journey nearly 18 months ago.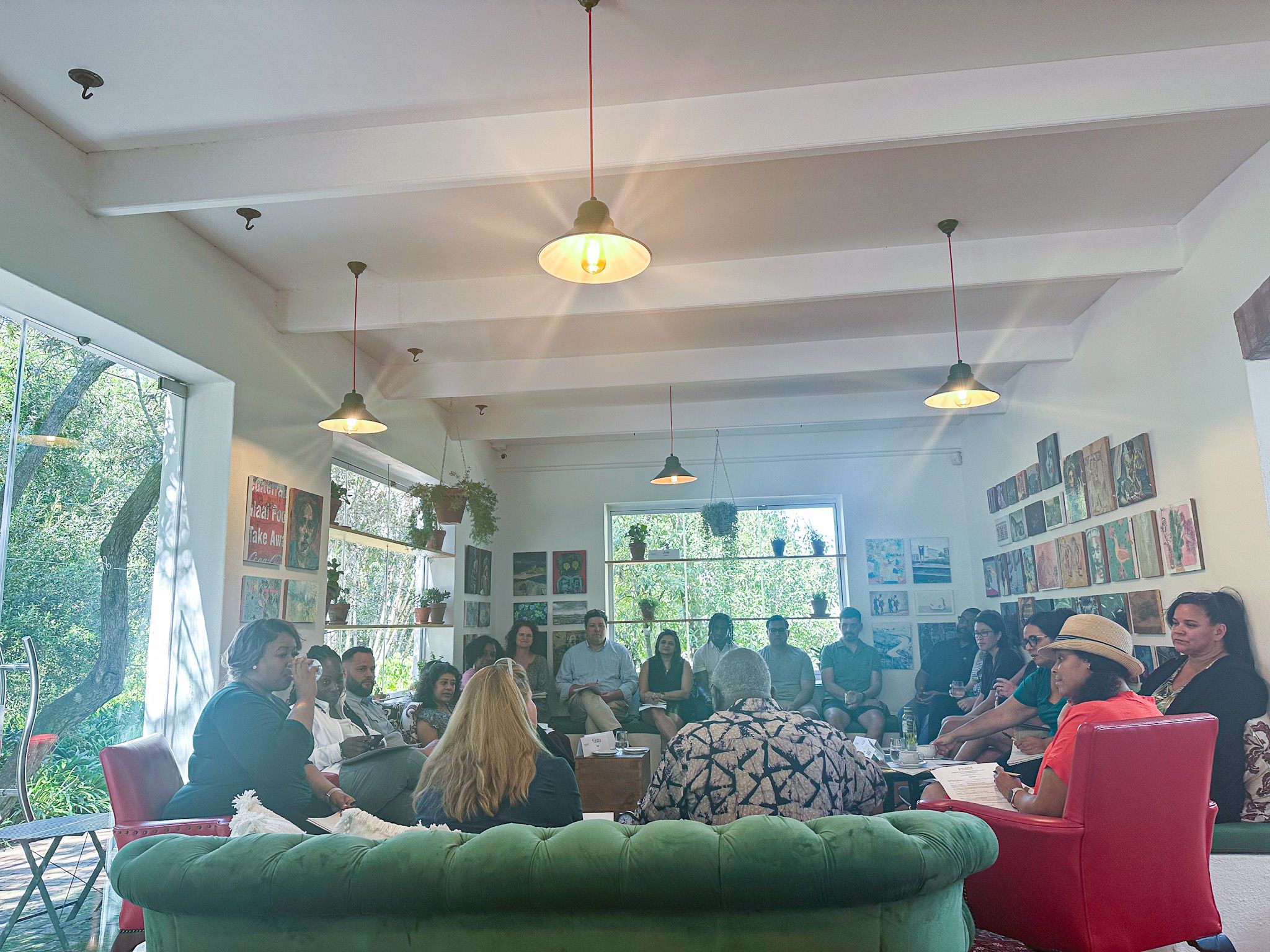 Beginning the day in our meeting space
Beginning the day in our meeting space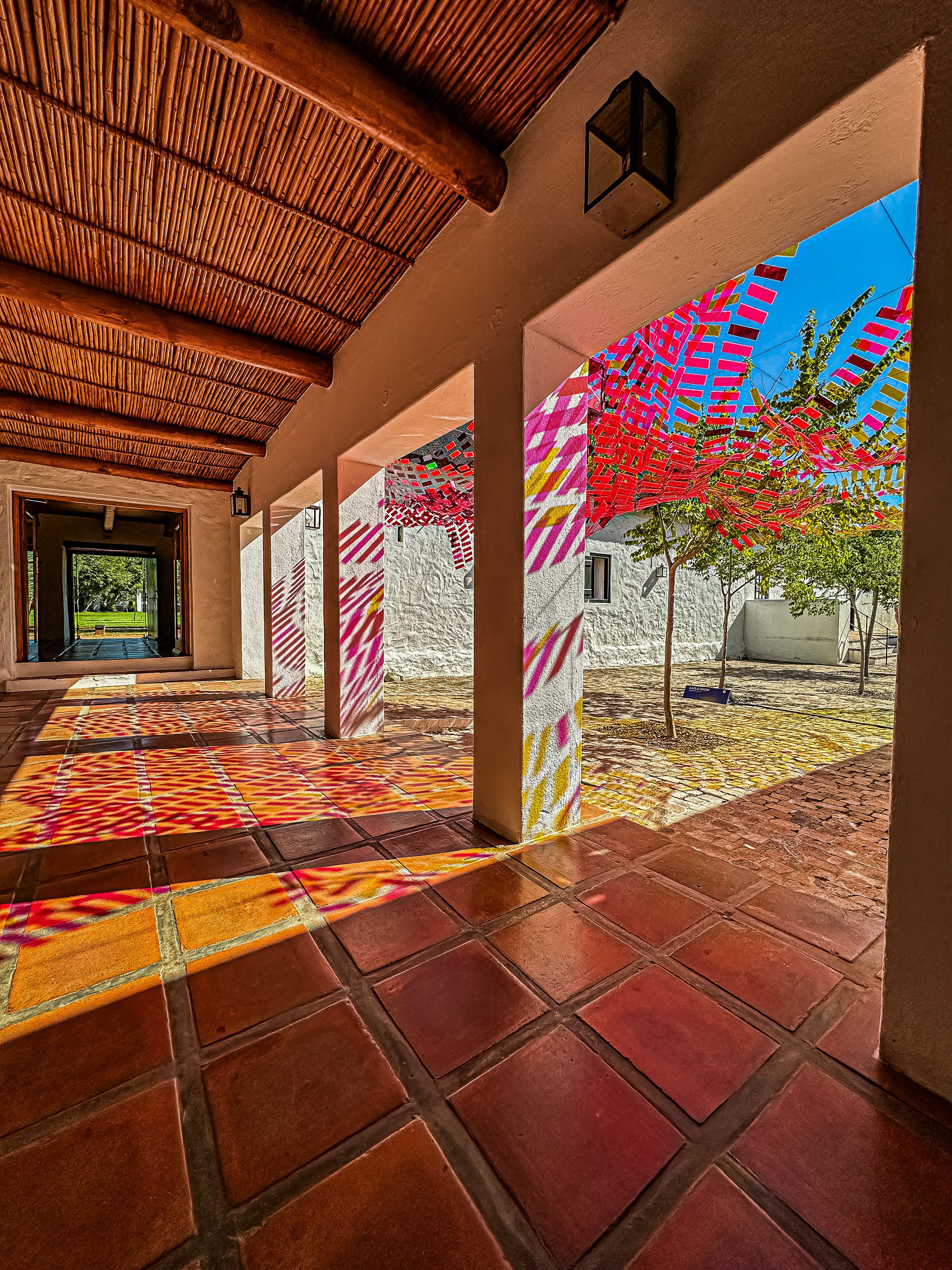 The sun has created this amazing reflection on the terracotta floor and I'm able to take a second to marvel and set my intention for the day ahead.
The sun has created this amazing reflection on the terracotta floor and I'm able to take a second to marvel and set my intention for the day ahead.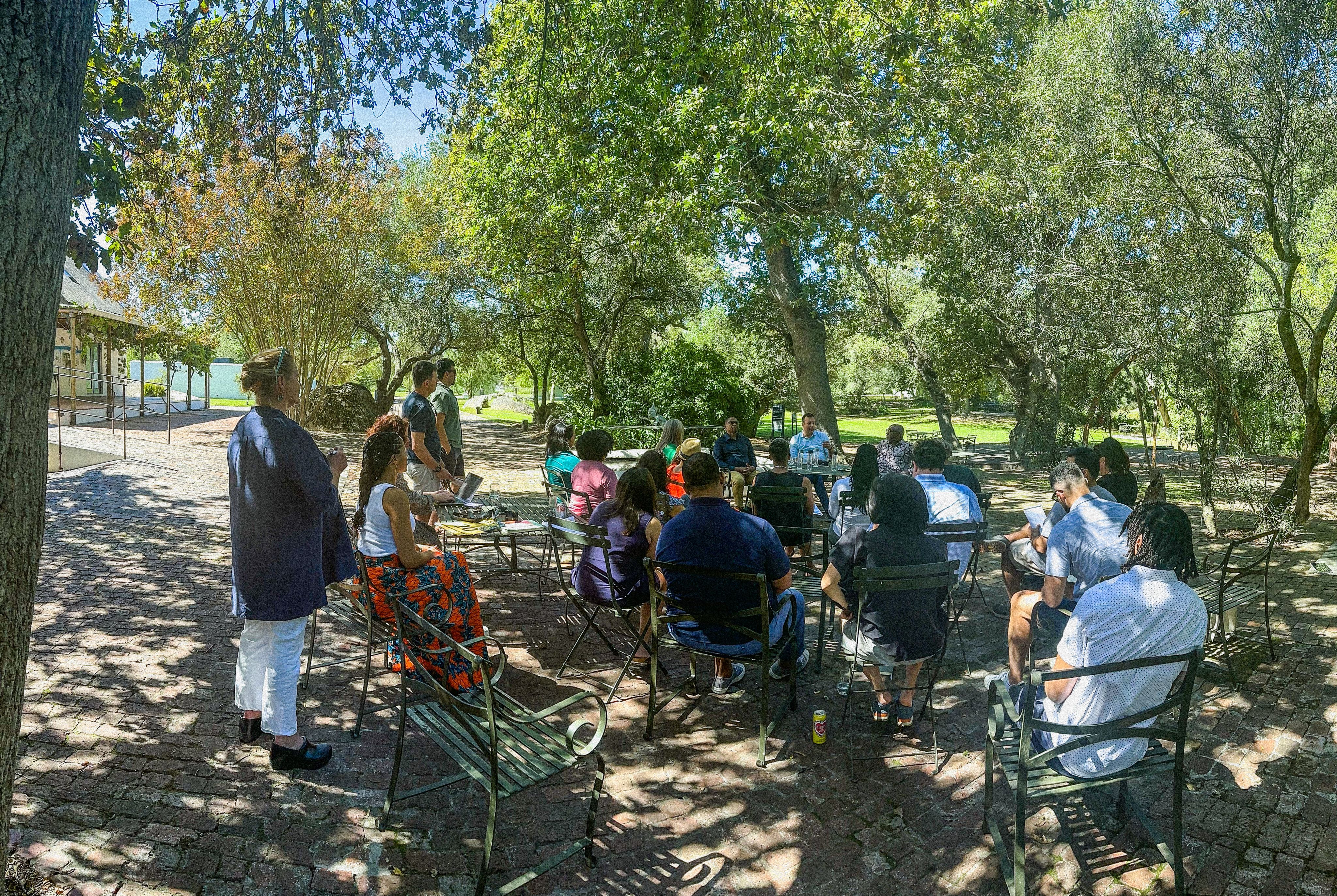 This kind of weather almost requires sessions to be outside.
This kind of weather almost requires sessions to be outside.
Item 1 of 3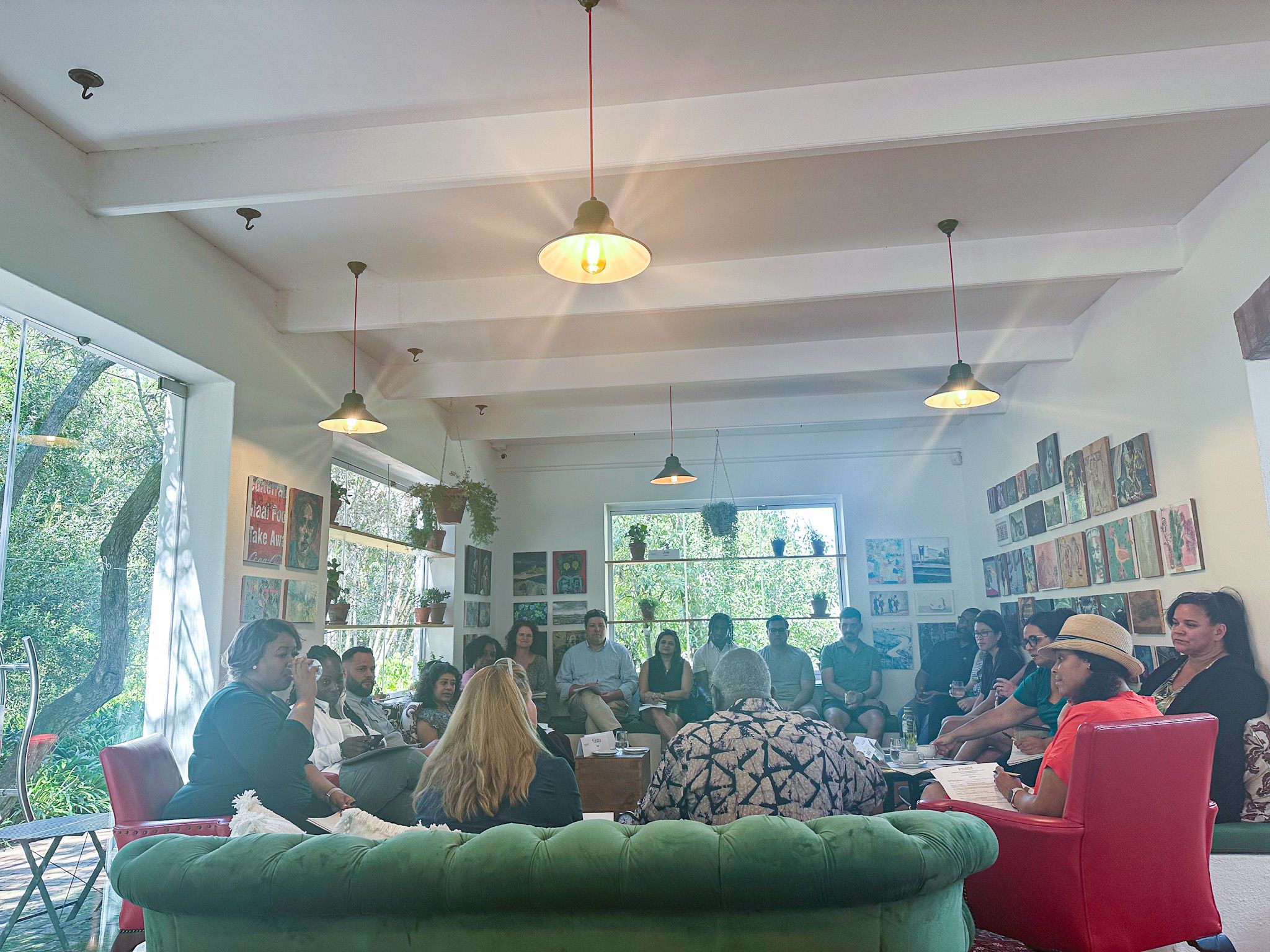 Beginning the day in our meeting space
Beginning the day in our meeting space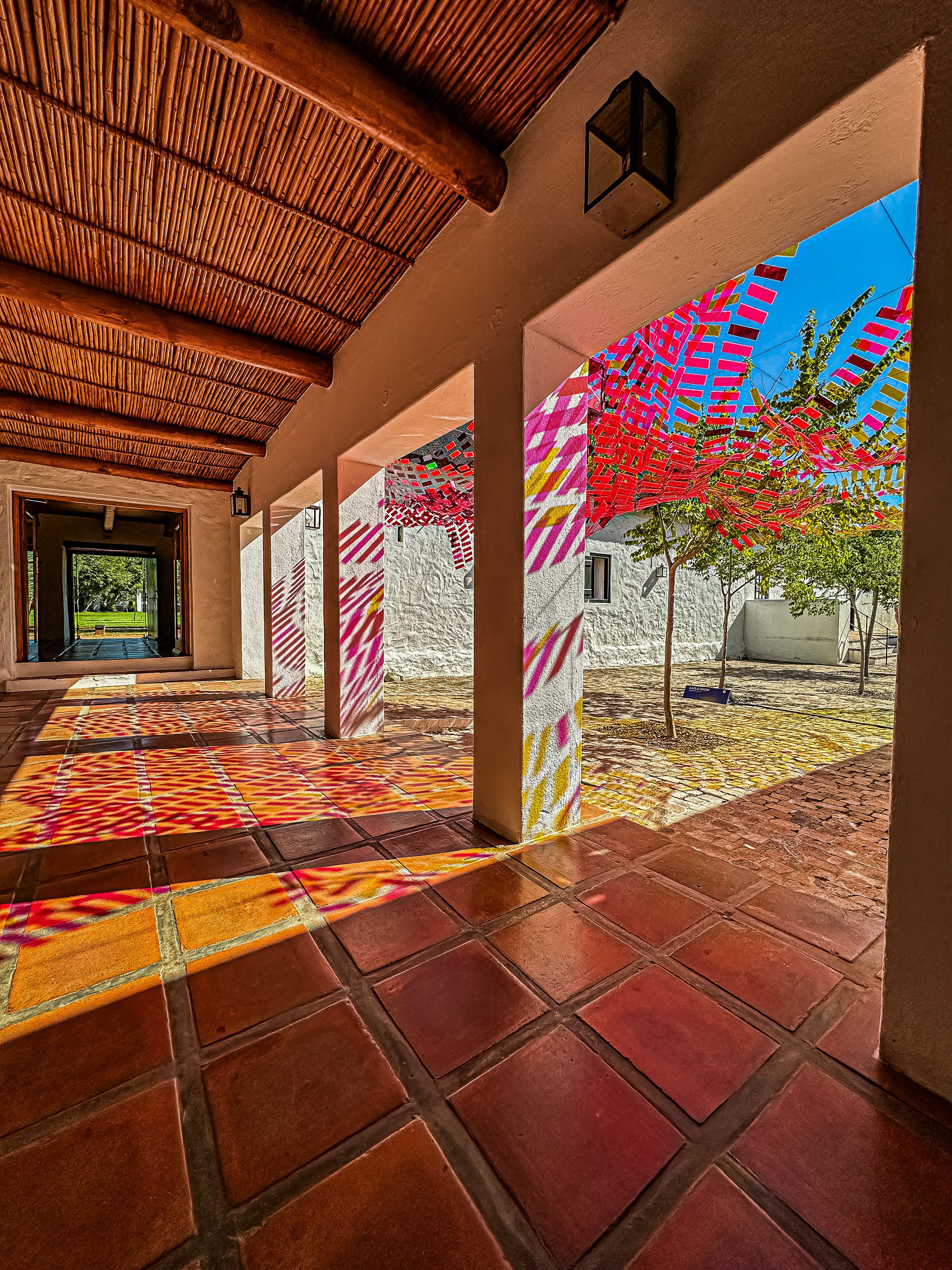 The sun has created this amazing reflection on the terracotta floor and I'm able to take a second to marvel and set my intention for the day ahead.
The sun has created this amazing reflection on the terracotta floor and I'm able to take a second to marvel and set my intention for the day ahead.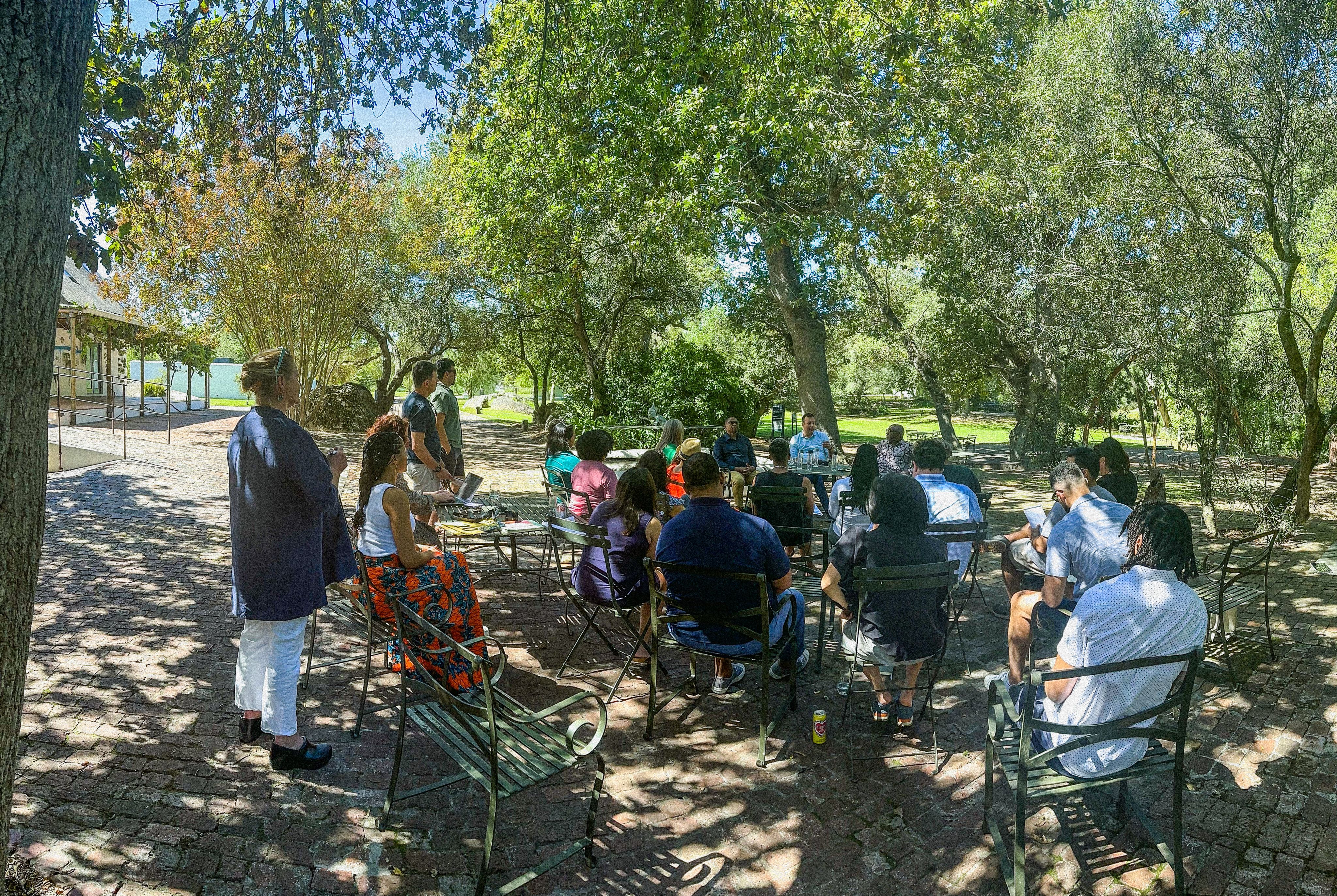 This kind of weather almost requires sessions to be outside.
This kind of weather almost requires sessions to be outside.
Monday, March 13 – 2:13 pm
Riverhouse
The weather is beautiful, so we move our next session outside. I'm looking forward to this grounding conversation with Dele, Mondli, and Adriaan, who are all journalists in South Africa. During this conversation, it struck me that the same year I was born, 1994, South Africa experienced its own rebirth, winding down decades of horrific Apartheid. I think of the endless aspirations families like mine have for their newborns just coming into the world and how that same hope was likely felt by South Africans watching their country emerge from a painful history, with an eye towards a brighter and more just future.
Monday, March 13 – 5:18 pm
Dele's Home
Dele graciously invited us to dinner at his home located on a vineyard with breathtaking views. After curating a few forums, I'm convinced that the best ones begin with dinner in someone's home, grounding the conversation in feelings of familiarity.
Tuesday, March 14 – 9:00 am
Riverhouse
It's the second day of the forum, and I wake up energized. I arrive a little early to continue my exploration of the art on the walls as this is our last day in Stellenbosch.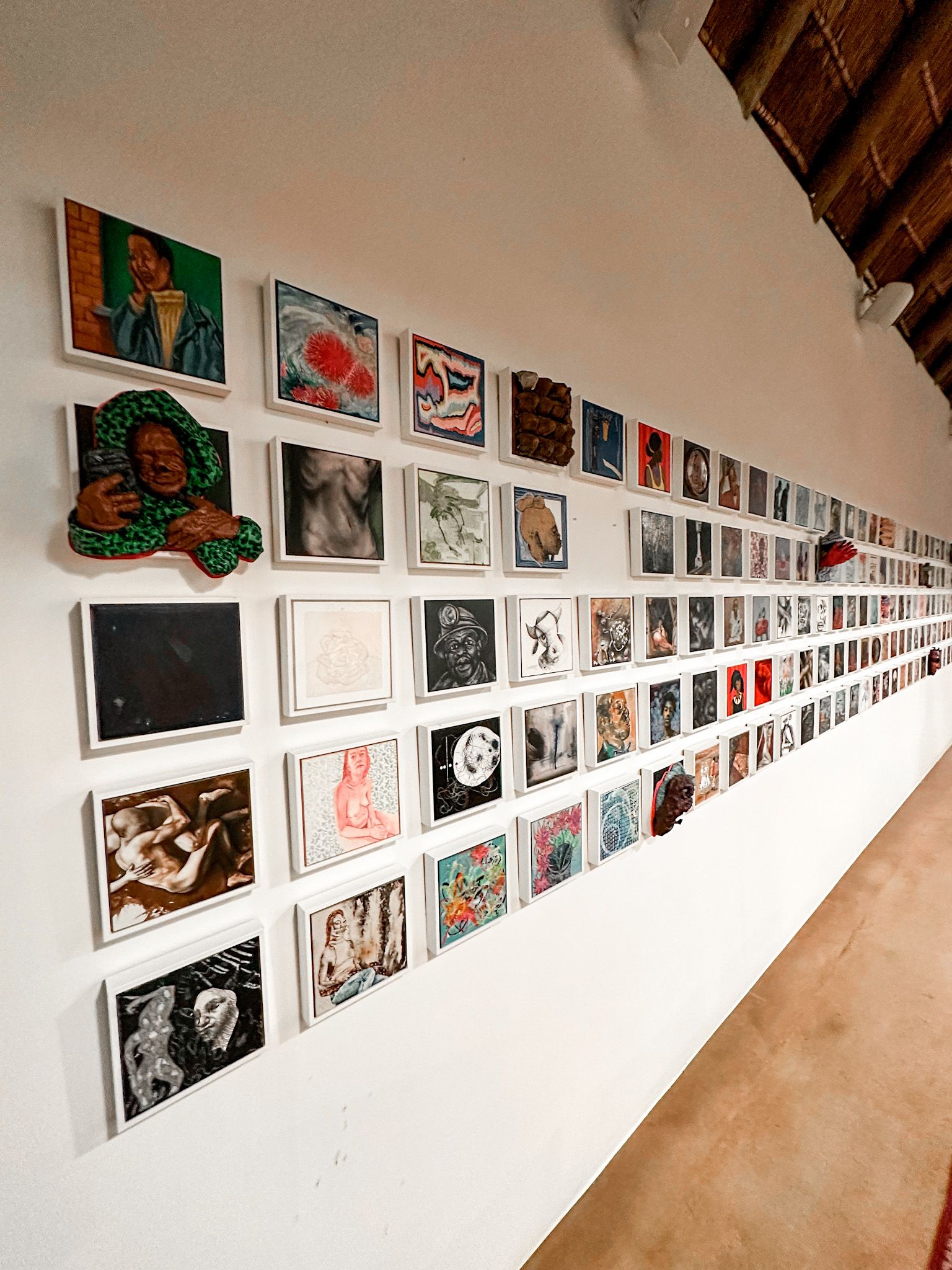 I'm excited to hear the dialogue around Nelson Mandela's Long Walk to Freedom, my favorite text of the six. The readings throughout the week intend to "enlighten the mind, touch the heart, and evoke a transformative growth experience." In the Mandela piece, he asserts that in life every man has twin obligations. On one hand an obligation to family, and on the other an obligation to community. From following the work of the Fellows and conversing with them, l see many of them working to balance their own versions of these twin obligations. They're able to see beyond themselves and commit to the larger mission of creating a society where all families prosper, not only theirs. But that's a mission that takes time and in that time one twin obligation can come at the cost of another. I think about all they've accomplished in just the past 18 months and hope they take the time to celebrate their accomplishments in the moment. Towards the end of the excerpt Mandela says:
"But I have discovered the secret that after climbing a great hill, one only finds that there are many more hills to climb…with freedom come responsibilities."
And just like that, we're on to the next session, and the transition is perfect. It's an opportunity for the Fellows to reflect on their accomplishments during the Fellowship, their accomplishments compiled from check-in calls and conversations throughout their experience. As I reread a few of the slips listing the accomplishments, I beam with pride and hope for all they have and will continue to achieve.
Wednesday, March 15 – 7:29 am
Last morning in Stellenbosch
Today, we're leaving Stellenbosch to explore Cape Town. I'm excited to explore a new part of South Africa, but I'm also sad to leave the people I met at Spier. In this moment, I realize how similar yet different our roles are. They've succeeded in making me feel like I'm not 8,000 miles away from the place I call home, the same goal I have for the experience provided to Fellows.
Wednesday, March 15 – 10:48 am
Cape Town City Hall
Being here in South Africa, the legacy of Nelson Mandela is most clearly embodied in the statues honoring him everywhere you turn. And here I am standing at maybe one of the biggest displays of admiration, The Cape Town City Hall. This is where Mandela addressed the people of Cape Town after his release from prison, saying: "No individual leader is able to take on all these enormous tasks on his own," and calling on the international community to support the cause. My community is one in Brooklyn, NY, home to the "Nelson Mandela School for Social Justice." In the same way the effects of white supremacy and settler colonialism aren't bound by place or time, neither are the revolutionary messages of leaders like Mandela. Here I stand in South Africa, where his message of freedom for all began, juxtaposing my two realities.
Wednesday, March 15 – 3:00 pm
The Vineyard Hotel
We're hosting a session with five Cape Town-based leaders and organizations for an inspiring discussion around how they're approaching challenges facing families and communities. The theme that each speaker shared was the importance of providing visibility and agency to children. They spoke about how they integrate the voices of children into their innovative work.
Children have thoughts and opinions on their future and should be able to voice them and be heard. I hear a familiar statistic from earlier in the week — by fourth grade, 82% of children in South Africa are not reading for meaning, followed by the adage that an uneducated populace is easier to control. Children are the future and in order to continue to get over the great hills, Mandela mentioned we must equip them with the proper knowledge and tools to succeed. Even with that startling statistic, South Africa is ahead of the U.S. in terms of policies specific to families and children. After the panel, it's clear the impact it has had on the Fellows. They're energized and are engaging in informal conversation with the panelist. They're inspired by the work being done here in South Africa on behalf of children and families and will bring learnings back to their respective organizations.
Wednesday, March 15 - 8:30 pm
Dinner at The Vineyard Hotel
At dinner, a few invited guests from the Africa Leadership Initiative shared sentiments on the current state of South Africa. The most vivid description of the current state came from Alan Storey, who compared it to being in the wilderness and the ability to make a plan with limited resources. He ended by saying: "No matter the headwinds we face, the winds of justice are always behind us," a deeply powerful frame.
Thursday, March 16 - 8:45 am
The Vineyard Hotel
Sekai Chiwandamira, from the Aspen Network of Development Entrepreneurs (ANDE), leads the Fellows in a context setting conversation. Later today each Fellow will visit either The Clothing Bank and GrowEducare Model classroom or Waves for Change, both local organizations working to support communities most in need. We learn that of South Africa's 61 million citizens, 41 million reside in townships. Townships were areas created during the Apartheid era to house Black, colored, and Indian people. To this day, they often lack basic necessities and access to stable electricity and potable running water. While a lot has been done since their inception to support township economies, the reality is many aren't getting the support they need. The townships house necessity-based businesses that are set up to solve critical issues. On our way from Stellenbosch to Cape Town, we passed by miles and miles of townships, and I think about the resilience necessary to thrive in those conditions and the phenomenal leaders that have been born from within them.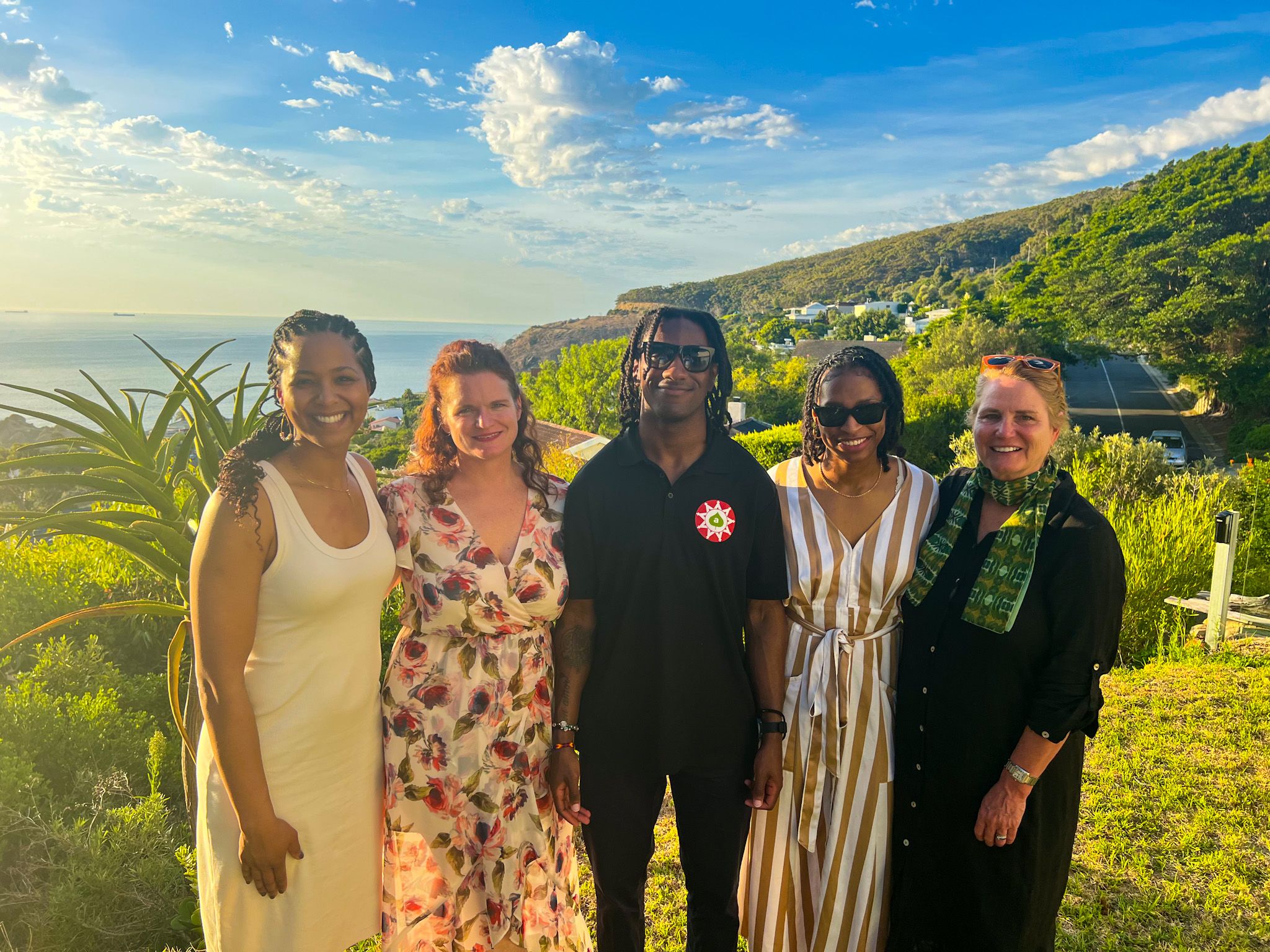 Thursday, March 16 - 9:58 am
Around Cape Town
While the Fellows are visiting local organizations, I travel with Lori Severens, Ascend's director for leadership programs, around the city gathering supplies for the cohort's final celebration. On the list? Kente stoles, candles, a small wooden bowl, a small amount of tobacco, and a speaker. I'm looking forward to seeing how they signify their transition to alumni with the requested items.
While out gathering the items, the township statistic is top of mind. 67% of South Africans live in townships, meaning that as we move from stand to stand, store to store, it's likely that the business owners live in a township. Thinking about that, everything within me beams because we have the ability to support them with our purchases.
Friday, March 17 - 7:23 pm
Cape Town, South Africa
Today's the final day of the official forum, and what an amazing week it's been. The closing text for the forum is Pablo Neruda's Towards the Splendid City. In it, Neruda writes: "We must pass through solitude and difficulty, isolation and silence in order to reach forth to the enchanted place."
At dinner, as we come together to reflect on the week and plan for the future, the word community is central to my own reflections. Our community has grown since the start of the forum and it continues as we all sit around the table enjoying South African cuisine the way it's intended, with a community of those you trust and respect. A final question was raised at the closing of the forum: If you never get to the splendid city, is it worth it for you? As dinner draws to a close and I ponder this question, I am reminded of the word ubuntu. A Zulu term shared by Archbishop Desmond Tutu in No Future Without Forgiveness, meaning "a person is a person through other persons." And sitting around this table tonight, ubuntu is the only way to describe my current sentiments. If the path towards the splendid city is defined by experiences like these, then it's indeed well worth it.