Reimagining Child Welfare
A Networked Approach to Family Well-Being
Establishing strong support systems from the start can set children and families up for long-term success. Directly impacting the lives of approximately four million children in the United States under age 18, the child welfare system has a tremendous opportunity to provide families with these needed supports. Leveraging this opportunity, however, requires fundamental shifts in how and when supports are offered to ensure that they are equitable, appropriate, and addressing root causes of adversity before they occur — especially for families with low incomes and those from Black, Indigenous, Latinx, and other communities of color.
Across all socioeconomic levels, the COVID-19 pandemic changed the landscape of life for children and families throughout our nation. These changes have amplified the importance of correcting profound inequities that our youngest children and their families experience in the systems, practices, and policies they navigate each day.
In fiscal year (FY) 2021, there were 588,299 reported and substantiated cases of children experiencing maltreatment in the US, 33.7 percent of them during the first three years of life. The almost 600,000 children determined to have experienced maltreatment in FY 2021 is the lowest in the last five years. Based on context provided by states to the National Child Abuse and Neglect Data System, the Children's Bureau at the Department of Health and Human Services' (HHS) Administration for Children and Families (ACF) 2021 child maltreatment report suggests that, for the second year in a row, decreases in screened-in referrals of alleged maltreatment may have contributed to the changes noted in the 2021 metrics. We encourage stakeholders to continue to analyze this data in the coming years to validate trends.
Maltreatment is defined as the abuse or neglect of children under age 18, including all types of physical and/or emotional ill treatment, sexual abuse, neglect, negligence, and commercial or other exploitation that results in actual or potential harm to the child's health, survival, development, or dignity. Although the definition of maltreatment includes both abuse (intentional harm to a child) and neglect (failure to meet a child's basic needs), we know from the data, our own lived experiences, and our work alongside families and communities that failing to meet a child's basic needs is most often not a result of intentional neglect, but more closely correlated with instability and disruptions caused by living in poverty. Over time, this nuance has perpetuated racial disparities related to those in contact with the child welfare system. The data shows that 45.5 percent of children with reported and substantiated cases of maltreatment in FY 2021 were Black or Latinx, while Indigenous children experienced the highest rate of substantiated cases at 15.2 per 1,000 children. The experiences of families who come into contact with the child welfare system are often characterized by interactions that position families as problems to be solved — and in many cases result in children being separated from their caregivers — rather than solutions and strengths to be leveraged and supported.
In January 2021, Ascend at the Aspen Institute launched the Two-Generation Prenatal-to-Three Learning and Action Community (2GP3 LAC). The 2GP3 LAC set out to reimagine the child welfare field's approach to child protection to reflect a preventive, strengths-based, whole-family orientation by drawing on provisions of the Family First Prevention Services Act and local, state, and tribal efforts to more effectively align early childhood and health funding, systems, and services. Tapping the expertise and experience of families, Ascend Fellows, and the Ascend Network, this work interrogated the systems, practices, and policies that work against children, families, and communities and contribute to disparities and poor outcomes. The 2GP3 LAC culminated its work by releasing the four recommendations below to create a path forward that builds on the inherent strength and resilience of young children, caregivers, families, and the communities and cultures in which they live for better outcomes.
A Two-Generation Approach
A Two-Generation Approach
Two-generation (2Gen) approaches build family well-being by intentionally and simultaneously working with children and adults in their lives together. The approach is grounded in the body of research that underscores the importance of investing in children and their caregivers together, especially in the earliest years. Economists, service providers, and families affirm the powerful return on supporting family units holistically.
Data tells us...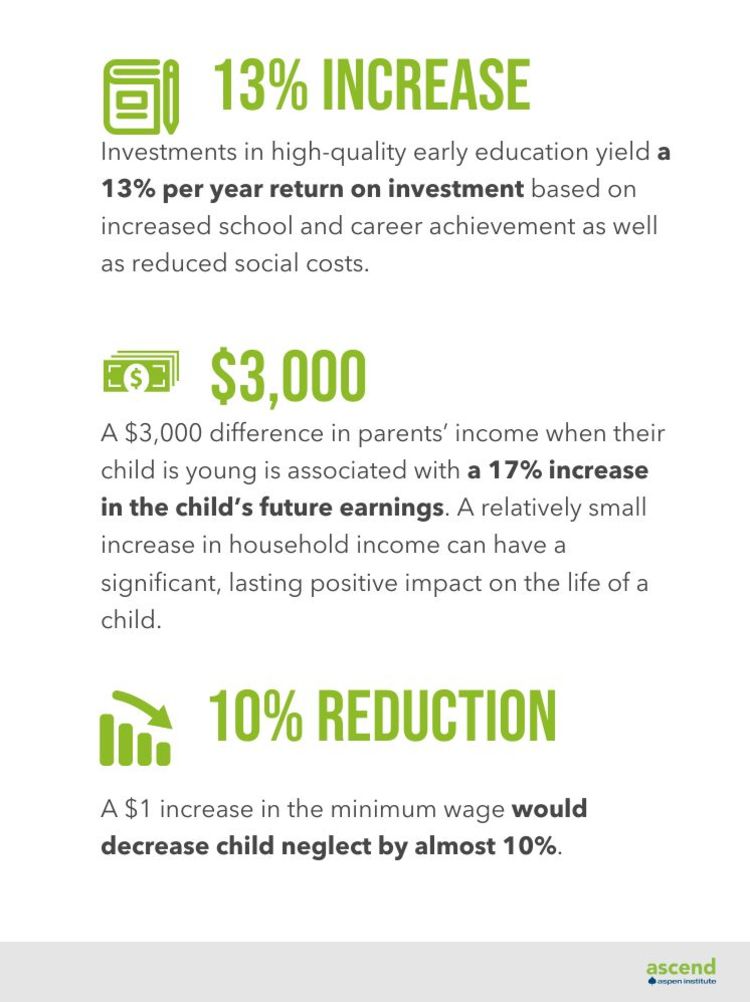 Embedding 2Gen approaches within all systems of care and support for families offers a powerful mechanism for intergenerational economic mobility and family prosperity.
To prevent those historically most at risk from coming into contact with the child welfare system in an undesirable way, and ensure better outcomes for those who do, the 2GP3 LAC surfaced four recommendations for policymakers and practitioners:
We extend our heartfelt thanks to the caregivers and leaders whose work and engagement in the Two-Generation Prenatal-to-Three Learning and Action Community informed this publication.
We are grateful for the support and partnership of the Doris Duke Foundation.
We would like to acknowledge Gwyn Hicks for writing and Adam Flango for designing this publication and Diedra Henry Spires, 2012 Ascend Fellow Katie Albright, Myra Jones-Taylor, and James White for co-facilitation of the 2GP3 LAC.
TWO-GENERATION PRENATAL TO THREE
LEARNING & ACTION COMMUNITY
Lola Adedokun, Executive Director, Aspen Global Innovators Group
Frank Alexander, Deputy Director, Boulder Housing Partners
Anthony Barrows, Managing Director, ideas 42, 2018 Ascend Fellow
Randall Baylor, Program Lead for Community Engagement, Early Childhood Innovation Network*
Kristin Bernhard, SVP Advocacy and Policy, Start Early, 2018 Ascend Fellow
Reggie Bicha, President, Shine Early Learning, 2012 Ascend Fellow
Matthew Biel, Division Chief of Child and Adolescent Psychiatry, Associate Professor of Clinical Psychiatry and Pediatrics, Georgetown University/Medstar, 2018 Ascend Fellow
Janeen Comenote, Executive Director, National Urban Indian Family Coalition, 2022 Ascend Fellow
Matthew Dodson, Senior Director of Integrated Care, Axis Health Systems
Lisette Orellana Engel, Vice President, Policy & Systems Change, National Crittenton
Joelle-Jude Fontaine, Senior Program Officer, The Kresge Foundation
Anna Marie Garcia, Vice President of Early Childhood Education, LANL Foundation
Gretchen Hammer, Founder, Public Leadership Consulting Group
Tameka Henry, Board Chair, Acelero Learning*
Cemaré James, Interim National Director of Movement Building, Children's Defense Fund
Deidre Johnson, CEO and Executive Director, Center for African American Health
Elizabeth Kehret, Service Coordinator, Early Childhood Services, Lutheran Services in Iowa*
Sherry Lachman, Associate Director for Education, Income Maintenance, and Labor, White House Office of Management and Budget
Georgia Mjartan, Executive Director, South Carolina First Steps to School Readiness, 2018 Ascend Fellow
Cynthia Osborne, Professor of Early Childhood Education and Policy and Executive Director, Prenatal-to-3 Policy Impact Center in the Department of Leadership, Policy, and Organizations at the Peabody College of Education & Human Development, Vanderbilt University
Jeannette Pai-Espinosa, President, National Crittenton
Erica Phillips, Executive Director, National Association for Family Child Care
Michelle Rhone-Collins, CEO, LIFT
Rebecca Riley, Early Childhood Consultant and Community Health Educator*
Yvette Sanchez Fuentes, Senior Vice President, National Policy, Start Early
Michelle Sarche, Associate Professor, University of Colorado -Denver, 2018 Ascend Fellow
Ann Silverberg King, Senior Director, Systems Improvement, Casey Family Programs
Darius Tandon, Associate Professor, Medical Social Sciences, Northwestern University Feinberg School of Medicine, 2015 Ascend Fellow
Lorelei Vargas, Executive Director, Trinity Commons, 2018 Ascend Fellow
Stephanie Villafuerte, Child Protection Ombudsman, Office of Colorado's Child Protection Ombudsman, 2017 Ascend Fellow
* Indicates LAC Parent Representative